HVAC Contractor in Terrebonne Parish, LA
As the leading HVAC service provider in Terrebonne Parish, LA, Core Air takes pride in ensuring our customers can count on us for all their heating and cooling needs. We understand how crucial it is to have a reliable HVAC system in this region, where the temperatures can get sweltering in the summer and bitterly cold in the winter. Thus, we offer top-notch HVAC services ranging from repair, maintenance to installation. We also understand that every household and business has unique heating and cooling needs, and that's why we always tailor our services to meet such needs.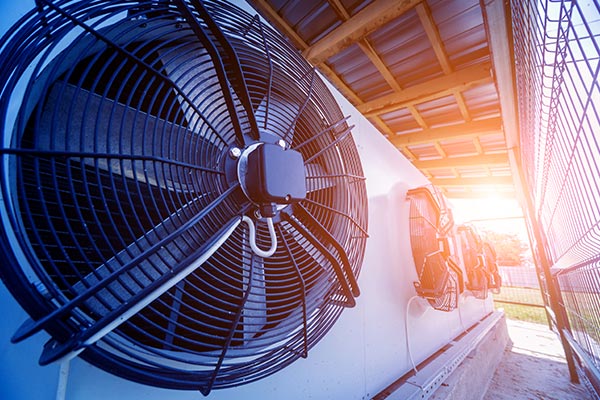 HVAC Repair
---
Our HVAC repair service ensures your heating and cooling system is always in optimal condition. We understand that HVAC systems are complex, and this means that even minor issues can cause significant problems if left unaddressed. At Core Air, we have a team of experienced and certified technicians who can help identify and fix any HVAC issue promptly.
Our team is always available to offer fast and efficient repair services, and we respond promptly to any emergency call. Whether your furnace is malfunctioning, the AC system is making unusual sounds, or you require immediate attention, we are always here to help. We always use only the highest quality parts for all our HVAC repairs, ensuring your system operates smoothly and efficiently.
HVAC Installation
---
At Core Air, we understand that each property has unique heating and cooling requirements. Therefore, our HVAC installation services are designed to provide customized solutions that meet your specific needs, budget, and preferences. Our team conducts a thorough assessment of your property to determine the right system for your home or business.
We source our HVAC systems from reputable manufacturers known for their high-quality products. With our experienced technicians, you can trust that your installation will be done right the first time, ensuring optimal performance and efficiency.
Our team also takes the time to educate our clients on the best ways to maintain and use their new HVAC system. We conduct a post-installation assessment to ensure your system is functioning correctly and that you are satisfied with our services. You can always count on us for all your HVAC installation needs.
HVAC Maintenance
---
Regular maintenance of your HVAC system is key to ensuring its longevity and optimal performance. Our comprehensive maintenance services ensure your heating and cooling systems operate smoothly at all times. We provide a wide range of maintenance services, including cleaning, lubrication, inspection, and calibration of your HVAC system.
We have designed our maintenance services to accommodate every customer's needs, whether you require a one-time service or a comprehensive maintenance plan. With our HVAC maintenance plan, you can rest assured that your system operates seamlessly throughout the year, and you'll rarely require repairs.
Our technicians are always up-to-date with the latest advancements in the HVAC industry and are regularly trained to maintain and repair any type of HVAC system. We use only the best maintenance tools and equipment to guarantee the best service for each customer.
FAQs
How often should I have my HVAC system maintained?
You should have your HVAC system maintained at least twice a year, once before the summer and again before the winter. Regular maintenance can help prevent major issues from occurring and can prolong the life of your system.
What are some signs that my HVAC system needs repair?
There are a few signs that your HVAC system may need repair. Some of the most common symptoms include strange noises, uneven heating or cooling, poor airflow, and increased energy bills. If you notice any of these signs, it is best to contact our team of experts, who can diagnose the issue and provide a solution.
How long does it take to install a new HVAC system?
The time it takes to install a new HVAC system varies depending on the system type and the installation's complexity. On average, a new installation can take between 1 to 3 days, but it may take longer if additional work is required.
Map Section
At Core Air, we are proud to serve Terrebonne Parish and its surrounding areas. Please refer to the map below for our service area.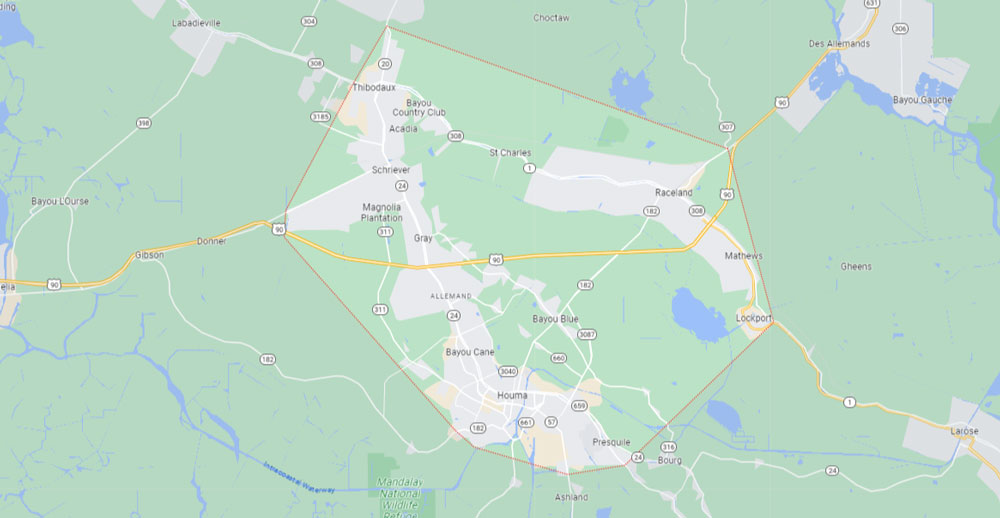 Need an HVAC Specialist?
Core Air provides top-notch HVAC services in Terrebonne Parish, LA, ensuring all customers can always count on us for all their heating and cooling needs. Our HVAC repair, installation, and maintenance services are customized to meet every client's unique needs and budget. We pride ourselves on being reliable and professional, and we always provide first-class customer service. Let us help keep you comfortable all year round; contact us today!